MY FASCINATION WITH MID-CENTURY MODERN DESIGN
I define Mid-Century modern as the style of furniture design and architecture that began post World War II and continued throughout the 50's, 60's and 70's. It was a time of optimism and hope for the future through new engineering and technology paired with organic elements representing nature.  

I remember the summer vacations in Texas when we would pile in the station wagon and drive from Dallas to the Gulf of Mexico.  We were off to the beautiful white sand beaches of Galveston, Corpus Christi, Padre Island and Port Aransas – even the name "Port Aransas", for me, invokes the vision of high angled architecture with cantilevered roofs in impossible gravity defying positions.  I distinctly remember that a "What-a-Burger" hamburger restaurant had a massive triangular roof at an extreme height to my eyes.  This architecture was hard to miss from at least a mile away and we would relentlessly beg my father to stop there for food.   Am I nuts or did those burgers taste amazing after a long day spent on the beach swimming, running and then crashing for a nap on our beach towels?
And those hotel rooms and lobbies did not disappoint with the floor to ceiling glass and the latest Danish inspired wood furnishings.  It was a scene right out of Don Draper's Manhattan living room seeming so stylish and a little bit futuristic.
Then we moved to California where the design aesthetic of Disneyland showed us the future via "Tomorrowland", although a distinctly 60's version of the future.
We also spent leisurely weekends in Palm Springs the unofficial capital of mid-century architecture.  This is where so many movie and TV stars would take a break from Hollywood relaxing in another of their glamorous homes or one of the many seriously fashionable hotels for some major party time. Of course my family (I think in the VW bus by now) spent our time hanging out at the pool and viewing the architecture which further drove the images of mid-century design into my subconscious.
I guess I should not be surprised that now the Mid-Century design style still feels fresh, futuristic and ultra-cool.  And…I still want to go there in my own home.
There are plenty of Mid-Century inspired products to choose from and I've included some here on this page.
Furniture and Accessories shown on my Mood Board are from House of Fraser in the UK.  Click Here to Shop or Click below on the House of Fraser picture.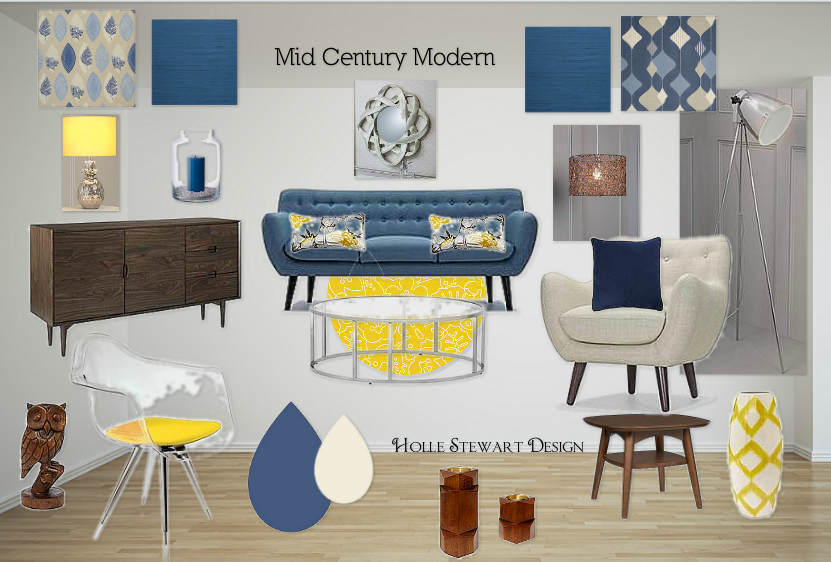 Click on link below to Shop