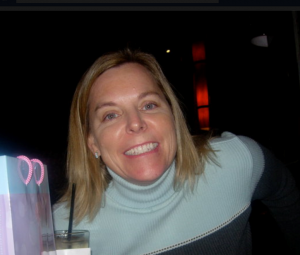 I knew since the age of about 6 years old that I wanted to be an Interior Designer. 
Of course, I had no idea it was a profession or a career, but it was my fascination with colour, textures, furniture and room layouts (whether someone's house or a retail boutique) that got my creative juices flowing.  Call it an obsession buy my poor parents were often met with odd noises in the house – the sounds of me rearranging the furniture.
After high school, I earned my Bachelor of Science degree in Interior Architecture/Design from California Polytechnic University in San Luis Obispo, California.  Cal Poly was one of the top ten architecture universities in the United States.  How lucky was I to be surrounded by very talented, smart and creative professors and students?  By my senior year, I couldn't wait to get out into the real world and start a career.
As luck would have it, I started my career in Ventura and Santa Barbara counties near my childhood home north of Los Angeles.  It is a very beautiful seaside area and very design conscious.  Projects were extremely varied (which is good for a young designer craving experience) and I was fortunate to be a junior designer on custom houses, restaurants, small boutique hotels, offices, retail stores, and even some studio work with Disney and Warner Bros.
The majority of my career was spent at a Fortune 500 bio-tech firm called Amgen.  It was amazing to help a small local start-up company grow into a global corporation.  I participated in many projects expanding facilities within the U.S., Puerto Rico, the Netherlands, Spain, France, Italy and even London and Cambridge!  I loved every minute BUT (there's always a but) I always kept my hand in residential (home) design on the side because I needed to have more of a creative outlet.  Yes, the more creative I am, the more creative I become.
The home interiors area in design has come a long way since my college days.  The materials, fabrics, furniture and accessories that are available today are amazingly varied and gorgeous!  There are so many options for all of us and I believe this is the most exciting time for interiors so far.  And the best part is that home owners and renters are more savvy and interested in their interiors than ever before.  Your home should be your sanctuary and escape from the outside world, whether you are entertaining friends and family or spending quiet time alone.  It should reflect who you are, what you dream of, and make you feel proud and special.  Everyone deserves a sanctuary no matter what their income is and it would be my pleasure to help you achieve it.
Cheers to making all of our home interiors a dream come true!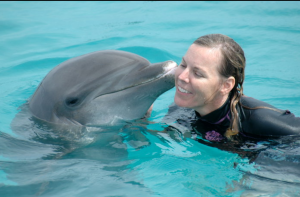 One of my favorite things in the world – swimming with dolphins.